Everything You Should Know Before Switching to Hosted PBX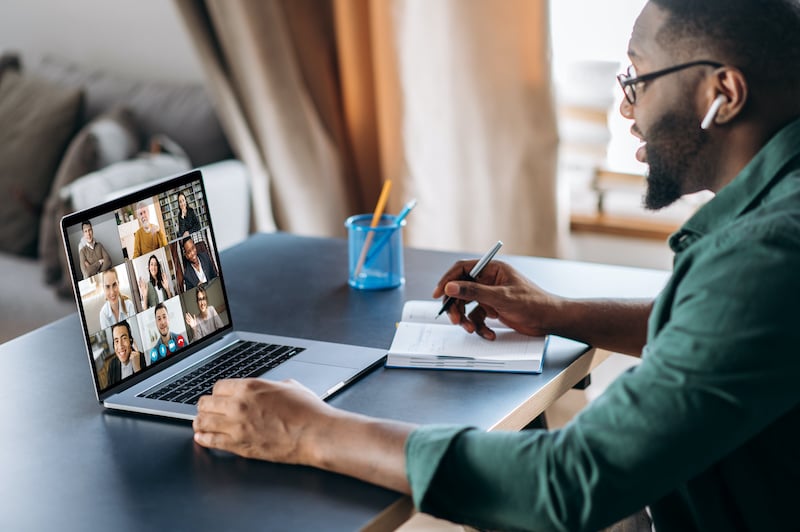 Getting Started With Hosted PBX: An In-Depth Guide
Hosted PBX phone systems (also known as cloud PBX) have gained popularity in recent years thanks to how well they fit into the evolving business landscape. Given the rise in remote work and the numerous benefits that come with digital transformation, many businesses are poised to switch to hosted PBX systems.
However, migrating your on-premises PBX system to the cloud is a step that requires careful consideration of all the factors that influence the process. This can be intimidating for any business, irrespective of their size or accolades.
In this comprehensive guide, we'll help you through the process by breaking down all you should know about cloud PBX systems, including how they operate, key criteria for choosing a provider, and how you can plan an implementation for your organization.
What is Hosted PBX?
Hosted PBX is a cloud-based telephone system that allows companies to make internal (within the company) and external (with the outside world) phone calls over the internet, as opposed to a call controller located on the company's premises.
It has increasingly become the popular alternative to traditional PBX due to its lower costs, higher scalability, and large feature set. To optimize phone call management within organizations, hosted PBX systems offer a wider range of features, including call routing, conferencing, call recording, and collaboration.
Hosted PBX vs Traditional PBX
Hosted PBX Systems
Their upfront costs are minimal compared to traditional PBX systems. They're also easier to scale, eliminating the need to spend on additional infrastructure. Since the service provider handles the technical aspects of the phone system, the business can focus on its core competencies and strategic ventures.
Traditional PBX Systems
Traditional PBX systems (also known as on-premises PBX) operate through physical hardware, such as copper cables and wires connected to a local carrier, servers, desk phones, and other equipment. They are often more expensive to set up and scale and require the supervision of in-house IT staff.
How Hosted PBX Works
A hosted PBX phone system has three main components: the hosted PBX provider, VoIP phone, and the internet. Once the system is set up, your organization's IP phones are linked to the hosted PBX provider over the internet. This connection remains uninterrupted to ensure the constant flow of calls.
As a cloud-based service, the hosted PBX provider manages your phone system. It ensures redundancy by having multiple data centers in place, so that if one data center is down, your calls are automatically routed to another data center, ensuring a steady stream of call traffic. If you need to make changes to your call settings, you just need to log in to the online voice portal and make these changes.
Benefits of Hosted PBX
Relying on a telephone system hosted in your organization's premises requires significant time and money investment in the setup and maintenance of the infrastructure that supports the system. These can put a huge strain on your organization's IT resources, making it difficult to focus on the business operations that generate the most value.
If this is your organization, here are a few of the top benefits you can look forward to experiencing when you make the switch to cloud PBX.
Cost Savings
The hosted PBX provider is responsible for the management and maintenance of the PBX infrastructure, allowing the customer to focus on core business operations and save time and money in the process.
Enhanced Functionality
Hosted PBX allows businesses to leverage the full power of the cloud, offering access to features that would otherwise be unavailable without buying expensive hardware or software. Through simple configurations and procedures, users can seamlessly access and switch between features such as voicemail and email, directory, call transfer, remote call management, and more. (PanTerra wins award for 'Best Feature Set in 2023)
Business Continuity and Disaster Recovery
Since traditional PBX is hosted within the business's premises, it's more susceptible to outages caused by disasters, such as equipment failure, earthquakes, and floods. Cloud PBX providers minimize this risk by protecting the PBX system in a secure and reliable data center.
Remote Work Support
Remote work support is one of the major reasons why businesses switch to hosted PBX. Through VoIP technology, hosted PBX systems allow employees to connect and collaborate with colleagues via an app and have their calls forwarded to any phone number or device irrespective of their location. This enables them to keep using their company phone numbers instead of switching to their personal phone numbers.
Key Features of Hosted PBX
Since cloud PBX systems are managed by a third-party service provider, they're not bound by the hardware and software limitations that arise in an on-premises infrastructure. As a result, hosted PBX providers offer a wider range of features than traditional PBX providers.
Call forwarding
Hosted PBX enables calls to be transferred to any mobile or phone number based on different criteria. This is particularly beneficial for remote work, where employees might be required to receive calls from any location.
Voicemail and Voicemail-to-Email
Not only does cloud PBX provide your company with voicemail functionality, but it also makes it possible for voicemails to be sent to employees' emails, so they can respond on any device, at any time.
Conferencing and Collaboration Tools
Hosted PBX offers call conference features, helping teams save costs and improve efficiency and productivity. These conferencing tools can be managed from one platform, giving administrators or supervisors the ability to schedule conferences in advance, secure conferences with passwords, monitor ongoing conferences in real-time, and more.
Interactive Voice Response (IVR)
IVR is the virtual alternative to a human secretary in an organization. This feature automatically receives incoming calls and directs the calls to the appropriate employee or department. IVR technology provides a more interactive experience through features such as self-service menus, payment processing, and customer surveys, allowing callers to access information without needing to speak to an agent.
Queue Management
Hosted PBX offers call queuing software that organizes all calls into an orderly queue, enabling companies to respond to calls on time and keep track of all calls. Businesses can configure the call cue in real-time by reordering calls, transferring calls to other queues, and deleting calls that are no longer necessary.
Considerations for Choosing a Hosted PBX Provider
Service Reliability and Uptime
Consider whether the cloud PBX provider has excellent reliability and uptime. This can be established by checking the provider's service level agreement (SLA) to see if it specifies its minimum percentage of uptime – 99.999% (also known as 'five 9s') is widely considered the holy-grail of availability for cloud-based services – and the level of support it provides to customers. For example, the SLA may specify the timeframe in which the provider responds to support tickets.
Phone Line Scalability
If your business experiences fluctuations in staff or call volumes at certain times of the year, consider choosing a hosted PBX system that allows you to scale your phone lines effectively to adapt to these changes.
Features and Customization
Most hosted PBX systems have a large feature set, but it's still important to check if the provider offers features that meet your organization's specific needs and requirements. For example, do you run a small business that requires just the core features, such as auto-attendant, call-forwarding, and conference calling? Or is it a larger enterprise-level company that needs more advanced features, such as call analytics, call recording, and integration with business systems?
Establishing this will help you choose a system that aligns with your organization's unique structure.
Customer Support
Poor customer service can significantly impact business operations irrespective of the quality of the hosted PBX system. Look for a provider that offers around-the-clock support, has positive reviews on trusted websites, and provides multiple support channels.
Implementing Hosted PBX in Your Business
Despite the benefits that hosted PBX systems can provide your organization, an uncoordinated adoption strategy can do more harm than good. Consider following these comprehensive steps for a smooth and efficient transition to the cloud.
Assessing Your Communication Needs
To determine what your business needs from the hosted PBX system, examine your existing infrastructure and the various departments within your organization. Access any pre-existing hardware or legacy software to see if they can hold up to the new hosted PBX system. Here are some hardware and software components to evaluate when planning your hosted PBX adoption:
Check if your current network infrastructure can handle the increase in traffic that will be generated by the hosted PBX system.
Evaluate whether the phones and end-user devices in your organization are compatible with the hosted PBX system.
Check if the operating systems on these devices are up-to-date and compatible with the hosted PBX system.
Verify whether your existing software applications, such as email clients and CRM systems are compatible with the hosted PBX system.
Evaluating Various Teams Within Your Organization
Every department within the organization has its unique needs and requirements. That's why it's important to evaluate each team and determine the capabilities they require from the hosted PBX system. For example, sales teams will need outbound call capabilities, while marketing teams might require video conferencing features for ideation sessions and marketing strategy planning. Consider the tools that each team will need to execute their communication operations.
Identifying Key Stakeholders
While each business has its unique structure, generally speaking, three main categories of stakeholders influence how the hosted PBX adoption unfolds: executives, IT staff, and end users. To ensure a smooth hosted PBX adoption, carefully study each group to understand their communication needs and possible challenges they may have with the tech.
This will help you to set realistic expectations and prevent any unexpected setbacks once you launch the system.
Training Employees and Onboarding
Hosted PBX adoption can be intimidating, especially for teams that are not digitally savvy. Consider phased rollouts to ease training and efficiently optimize training, improving the prospects for successful implementation.
To keep employees engaged during the training stage, consider organizing formal training sessions for them and creating a cheat sheet containing all the tips and tricks for utilizing the hosted PBX platform. Proper training will lead to positive outcomes for your employees, which will, in turn, help your business generate maximum value from the UC solution.
Panterra Streams: Elevate Your Business Communication
Now that you know the benefits you can enjoy when you switch to hosted PBX, it's time to define your implementation goals and objectives. Will migrating to a cloud-based PBX system help you implement an efficient remote work system? Is your goal to save costs? Do you require more features for your phone system?
Irrespective of the goals you've set out to achieve, Panterra's Streams has you covered with its secure cloud-based PBX system. The system comes packed with various features, including call routing, video conferencing, call recording, and voicemail to enable you to take business communication to the next level.
Interested in hosted PBX pricing? Put your quote together here, today.