Business Communications: UCaaS vs Video-Only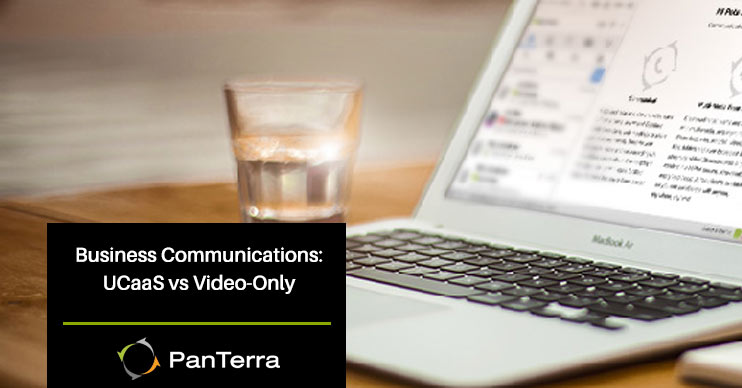 In today's world of fiercely competitive business practices, CEOs, CFOs and boards of directors must continuously fine-tune their enterprise's practices in order to optimize the all-important bottom line. As the world flattens, the true importance of open and easy communication -- not just between the enterprise and its clients, but also vendors, competitors, and even in between departments -- becomes blatantly apparent.
Moreover, as communications take a wider and wider variety of forms -- what used to be limited to phone calls, letters, and personal visits in the last decade has blossomed into a myriad of media including (but not limited to) text messages, instant messages, faxes, emails, video conferencing and tweets -- the cost for a corporation to support communications across those media has expanded as well. Traditionally each form of media that you wish to be able to accept messages in has had its own unique protocol (if not a unique interface) to handle that reception, with the net result being that each additional media added more complexity, expense, hassle, and time sunk into its use.
At the same time, executives have had to balance those costs against the benefits of being able to reach customers on the level that they are accustomed to communicating at. A business that took IMs was much more likely to get a real-time cross-section of consumer opinion than one that could only be reached by phone. Every method of communication has its own benefits, and but for those nagging costs, every corporation would strive to be able to transmit and receive in all of them.
Enter the telecommunications concept known as Unified Communications -- the notion of a single hardware/software platform capable of getting messages out to your workers no matter what the source, no matter where they happened to be. Unified Communications revolutionized the telecom industry, and it left the business elite asking not "do we switch to Unified Communications," but "WHEN do we switch to Unified Communications -- and how?"
Those last two words are the critical question addressed herein. There are a few competing media by which UC platforms are being offered today; each has its own benefits and disadvantages. Below, the proof is given that a cloud-based UC platform offers greater benefits, fewer disadvantages, and does so at a measurably lesser cost than other competing methods.
In short, getting your Unified Communications infrastructure through the cloud -- where a dedicated company hosts the communications service off-site and your workers access it through a secure Internet connection -- keeps money, effort, and time costs to a minimum without sacrificing any meaningful amount of benefits.
Using Video Conferencing as Sole Method of Communications is a Mistake
The 10 Most Common Video Conferencing Problems Explained
Excerpt from article on DemoDesk:
Being able to speak with anyone around the world through a virtual meeting is incredible. But, frequent problems with video conferencing can be a pain. Did you know that up to 95% of online meetings start late?
"Sorry, we'll get started soon – we're having some technical difficulties." We've all heard that before.
Technical glitches in video conferences and software issues are why most meetings start late.
This results in an incredible amount of lost time and money. With virtual meetings on the rise, the economic impact continues to grow.
Avoid Video Conferencing Security Mistakes
Excerpt from article on No Jitter:
Rapidly scaling solutions to support a remote workforce have placed a spotlight on security shortcomings of video conferencing platforms that many companies use for communication. These tools, while easy to use, were found lacking in enterprise-grade security protocols, exposing organizations to major protection and privacy risks. With remote working practices rising in popularity, video conferencing capabilities will be even more of an essential component of a secure business communication platform, along with messaging and voice capabilities.
Choosing the right communication and collaboration tools for your business can be frustrating and overwhelming. If you're relying solely on video conferencing, you're missing an opportunity to take advantage of the features available when you use a Unified Communications as a Service (UCaaS) solution that incorporates deskphone, mobile devices, file sharing, email, fax and video conferencing into a single system and reduces costs exponentially.
Unified Communications Overview
One of the greatest challenges that modern businesses face is the continuous desire of clients, vendors, and co-workers to communicate in different ways -- with messages coming in by phone, fax, email, voicemail, instant message, text message, videoconference, letters, and smoke signals, getting everything sorted out and in the right inbox (and the right format!) at the right time can be a complex and nigh unto impossible to process. Moreover, sometimes the right format for the sender, who might be sending a text message from the middle of a crowded movie theater, isn't the right format for the recipient, who might be driving and unable to read that message at the moment.
Unified Communications is the art of addressing those problems -- though, in doing so, it must also address a host of other issues ranging from call-center services to data storage. It turns out that the process of moving ideas around between groups of people is a fantastically complex and far-reaching one, with filaments that reach into almost every business endeavor in which we participate.
To that end, a Unified Communications platform requires hardware and software elements, and the most basic of them have a host of basic features:
Comprehensive Unified Communications - unlimited business-class calling, powerful call routing, secure instant messaging and real-time presence
Professional Call Features - auto attendants, ring groups, BLA/BLF, music on hold, call recording, after hours and holiday routing, failover rules
Group Collaborations - includes audio/video conference, IM Conference, web meetings, desk sharing and file sharing
Unified Cloud Communications (UCC) Panel - the hub for all your communication interactions
Contact Center Service - call queuing, call selection, call back recording, supervisor controls, statistics, and reporting
Mobile Device Support - includes Android and iOS mobile apps that bring all UCC desktop features to mobile devices The most amazing part is that all of this is really just barely scratching the surface of what it means to have a Unified Communications system installed at your workplace. More advanced features abound, from powerful conferencing software to integration with the most popular existing communications software, and more are being developed every day.
The Cost of NOT Using Cloud-Based UC
Cloud-based UC platforms offer a dramatic reduction in overall costs compared to on-site, multiple hosted, or hybrid methods. Not all of these costs are obvious, however -- the greatest sacrifices a corporation makes by choosing a non-cloud-based UC platform aren't in the increased number of dollars spent -- they're in the failure to increase the number of dollars earned.
PanTerra Networks: Futureproof cloud-based Unified Communications
That single simple fact -- the notion that, if you choose to use the cloud to get your Unified Communications platform, you never have to worry about upgrades or downtime -- is exactly why PanTerra Networks is able to call their UC platform "futureproof". Unlike any other form of UC infrastructure, PanTerra's cloud-based UC platform will never leave your business on anything other than the cutting edge of telecommunications ability.
By combining the basic functions mentioned earlier, including a powerful virtual PBX, versatile collaboration services that include audio/video conferencing, dedicated Call Center services and a browser-based unified command center for easy management, PanTerra Networks has built a Unified Communications platform that is powerful enough to serve corporations of any size, but nimble enough to keep up with businesses of any speed.
What, then, in the end, is the true cost of choosing a Unified Communications platform that isn't PanTerra Networks? Lost or delayed messages. Fewer sales. Frustrated customers. Greater costs both upfront and ongoing. Reduced flexibility. More hassle. Lower productivity. Contrast that to the power and grace of PanTerra Networks' cloud-based Unified Communications platform, Streams, which will save your business time, money, and effort while improving your responsiveness, efficiency, and bottom line.
There is no business that cannot benefit by implementing a Unified Communications platform. The choice is not between having UC and not -- it's only between which UC infrastructure will serve your business best, and the answer is clearly and universally that cloud-UC is the platform of choice. PanTerra Networks' Streams cloud-based UC platform: it's not a UC solution -- it's the right UC solution for you.