Today's Environment Demands the Versatility of a Virtual Office
It's All About the Bottom-Line
In today's world of fiercely competitive business practices, CEOs, CFOs and boards of directors must continuously fine-tune their organization's practices in order to optimize the all-important bottom line. As the world flattens, the true importance of open and easy communication -- not just between the company and its clients, but also vendors, competitors, and even in between departments -- becomes blatantly apparent.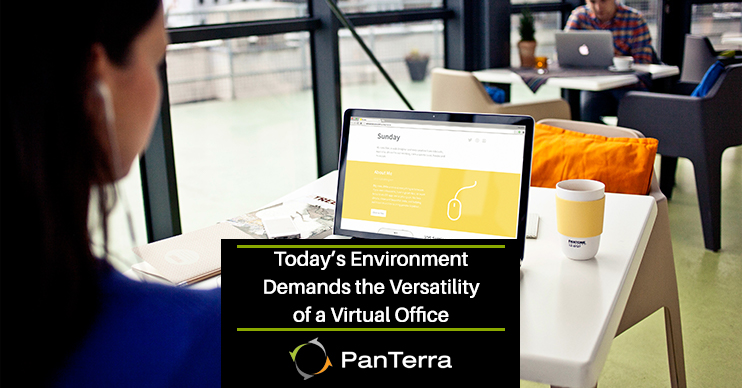 ---
The All-Important Communications Method
Moreover, as communications take a wider and wider variety of forms -- what used to be limited to phone calls, letters, and personal visits in the last decade has blossomed into a myriad of media including (but not limited to) text messages, instant messages, faxes, emails, and tweets -- the cost for a corporation to support communications across those media has expanded as well. Traditionally, each form of media that you wish to be able to accept messages in has had its own unique protocol (if not a unique interface) to handle that reception, with the net result being that each additional media added more complexity, expense, hassle, and time sunk into its use.
At the same time, executives have had to balance those costs against the benefits of being able to reach customers on the level that they are accustomed to communicating at. A business that took IMs was much more likely to get a real-time cross-section of consumer opinion than one that could only be reached by phone. Every method of communication has its own benefits, and but for those nagging costs, every corporation would strive to be able to transmit and receive in all of them.
Unifying Communications – Not If, but When
Enter the telecommunications concept known as Unified Communications -- the notion of a single hardware/software platform capable of getting messages out to your workers no matter what the source, no matter where they happened to be. Unified Communications revolutionized the telecom industry, and it left the business elite asking not, "Do we switch to Unified Communications," but "WHEN do we switch to Unified Communications -- and how?"
Opportunity Knocking with Virtual Office Features
And, in today's current environment, the 'virtual office' has taken on a whole new meaning. The way in which we did business in the past, handshakes and in-person meetings, is taking a back seat to videoconferencing and all methods of communicating with our peers and our customers (phone, IM, SMS, and email). The virtual office has come to the forefront and diminishing the necessity to maintain a brick-and-mortar physical location. This new paradigm has opened up a new frontier in conducting business and allows organizations to do business virtually anywhere in the world. To accomplish this enormous opportunity, virtual offices require a myriad of features. Those features include:
Virtual Phone Number - also known as DID or access number, is a telephone number that is not directly associated to a telephone line. Utilize virtual numbers from various area codes to show presence in those areas regardless of physical presence.

Auto Attendant - allows callers to be automatically transferred to an extension without the intervention of an operator/receptionist.

Mobile Device Integration - connects different apps and devices to achieve seamless data exchange and optimized workflows. A necessary component to conducting business from virtually anywhere.

Voicemail - allows users to receive voice messages when they are unavailable to answer phone calls in real-time.

Videoconferencing - the holding of a conference among people at remote locations by means of transmitted audio and video signals. When you aren't able to travel to meet with customers physically, videoconferencing is critical to a successful virtual office.

Ring Groups - a group of phone numbers, extensions or physical telephones that ring together, simultaneously, when one extension number or extension is dialed. An important factor when your virtual office is headed up by multiple employees disbursed throughout the country.

Follow/Find - Find me service allows the user to receive calls at any location; follow me service allows the user to be reached at any of several phone numbers.

Team Collaboration - in telecom, team collaboration is the ability to work as a team utilizing several different methods of communication, which include email, file sharing, video/audio conferencing, text messaging, etc. An essential requirement for doing business is being able to collaborate with clients, vendors, and employees.

SMS/IM - SMS is a feature that was developed for cellular phones as an alternative to calling; IM, on the other hand, was developed and is still predominantly used in personal computers via the Internet. An efficient and effective way of remaining available even when you're not at your desk.
The PanTerra Advantage
PanTerra Networks, Inc. delivers the most comprehensive cloud-based unified communications service through its Streams solution. Streams makes companies more competitive by making them more responsive and includes all services and unlimited usage for unified business communications including voice, unified messaging, fax, video, instant messaging, email, file transfer, mobile text messaging and presence integrated into its team collaboration solution. Streams also includes group communications including desk sharing, web conferencing, IM conferencing, and audio conferencing. Streams also integrates with Outlook and Salesforce as well as other commonly used CRMs through its included application programmers interface (API) enabling communication-enabled business process (CEBP) environments to flourish.
Streams stores all your communications in the cloud, enhancing security and allowing you to access them with just an Internet connection and browser. All of the services/features that PanTerra offers lets businesses truly enjoy a virtual office experience with confidence that you are utilizing the most comprehensive solution on the market today.