The Other 5 or 6 Things You Need To Know About SmartBox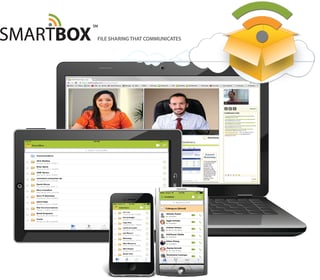 SmartBox shares the way you want to share (subfolder sharing).Ever think about how you organize your files and how you want to share them? If you're like me, the natural way is to create main folders with subfolders (a hierarchical approach). Then you want to share each folder, subfolder or even individual file uniquely with whomever you want and with whatever specific share attributes you want... right? Well, believe it or not, that seemingly natural way of organizing and sharing files is NOT available with most file sync and share services! Most services only allow you to share at ONE level. So to share something underneath that level, you have to copy/move it to the top level. Arrgh! That is super inconvenient. With SmartBox, your wish is its command! You can share ANY level content with any custom share attributes. Once you start sharing the SmartBox way, you'll never go back!
SmartBox manages all your contacts.Are you constantly importing your contacts into your file sharing service and your IM service and your conferencing service and your PBX service? With SmartBox, you import your contacts once and you're done. They are instantly available to all your WorldSmart services (SmartBox and CloudUC). SmartBox supports imports from Outlook, Google, Yahoo and any CSV formatted file. And virtually all fields are imported (not just name and email). So you can look up a fax number, key note or even address with SmartBox.
SmartBox is built for easy yet powerful administration.Today's IT departments are being strongly influenced by millennial end-users to deliver services that are "consumer intuitive" while corporate mandates continue to demand strict control, security and manageability requirements. SmartBox delivers on both requirements with a common administration portal that can be accessed from any device anywhere in the world. The SmartBox admin portal supports multiple administrators with multiple privilege levels making it easy to set up a centralized or distributed administration structure. Centralized security and user policy controls make it easy to apply enterprise level control over features and access capabilities. Multi-user and group management features make managing large organizations a snap.
SmartBox is built on a platform with ultra-high service attributes.A cloud service is only as good as the platform it's delivered on... period. Unfortunately, many cloud service providers don't understand the direct relationship between the platform's critically important service attributes and the success (or failure) an enterprise will experience with that service. You can have all the features in the world, but if the service is frequently unavailable due to outages, or the quality of service delivery is unacceptable too often, or if you can't reach a support resource in a timely fashion, the productivity of your enterprise will suffer. SmartBox is built on a platform with ultra-high service attributes including 99.999% reliability, availability, scalability, security, Quality of Service (QoS), Service Level Agreement (SLA) and support. No other service provider comes anywhere close to SmartBox on these critical service attributes.
SmartBox can replace your entire communications infrastructure... really! PanTerra's award-winning CloudUC solution has been fully integrated into SmartBox allowing enterprises to replace (and upgrade) their existing communications infrastructure with SmartBox. That means saying good riddance to your antiquated on-premise PBX, voicemail system, and separate conferencing, faxing, web meeting and contact center services. SmartBox is equipped with all of those communications services and more. And when you consider it's one of the only services that has historically delivered 99.999% reliability over multiple years and the fact that you can save upwards of over 70% on your communications and storage costs, SmartBox is not only the right choice, it's the smart choice!
SmartBox is FREE. As Mikie says, "Try it, you'll like it!" OK I'm sneaking in one more "you need to know" bullet! You can try out SmartBox for FREE with no obligation and virtually no restrictions. OK, there are some restrictions but not many. All of the real-time communications features are also available in the free version (except calling off-net), so you can even make an audio call, IM, video call or even web meeting with anyone else that has a SmartBox client. And you can download and install the mobile apps for free as well! So go ahead and try it out. We even provide a handy Dropbox/Box replicator service that will automatically (and without sucking up any of your bandwidth) replicate your entire Box and/or Dropbox content into your SmartBox account with a simple click of a mouse!