PanTerra's CEO on The Bridge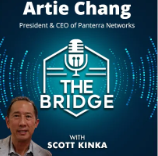 A few weeks ago, we sat down with Artie Chang, the CEO and founder of PanTerra Networks. Artie is a true tech entrepreneur. 15 years, self-funded with some local and regional investors, out there competing, surviving every day against the big tech companies in unified communications and collaboration.
In this episode, we cover a lot of ground including how companies are approaching their return to work plan, IT complacency, and the challenges of building your team's culture in a remote setting.
This is a guy whose tech was founded around working remotely and you'd think, embedded into the culture of the business, and yet even PanTerra still struggled from some of the same cultural challenges that your business may be facing today.
The Return to Work Plan: Artie's Insights
If you think you had some problems working during the pandemic Artie has 10 children. Ten! Six of whom, with adult jobs in the Bay Area, all decided to come home and work in the house during the pandemic.
He had some interesting feedback about their employers' return to work plans and how his children all kind of want different things out of work, post-pandemic. He called the phase we're in today the 'evaluation phase', not the return to work phase. Businesses are still figuring this out and adapting the return to work plan will be ongoing.
He also talked about the pandemic kind of hitting in a time of "IT complacency". He said, "this isn't the first time we've gone through something like this, and yet it sort of hit in a period where we were comfortable with the way we were working, not challenging our norms, just sort of supporting the business from an IT perspective".
Artie shared that one of the challenges that we have right now is losing the ability to sort of onboard new folks into the culture, into the business, with that over-the-shoulder water cooler way of becoming a part of the culture. He also talked about how that PanTerra has focused on competing by developing some interesting supervisory features, that he believes, and I could probably support, are not actually in some of the other big platforms that you see out there.
Finally, Artie had an interesting way of thinking about how you compete, how you find those little ridges in which to compete in an ever-changing economy, and in the changing way that we work.
You can listen to the whole episode on your favorite podcasting platform and don't forget to connect with Artie.