4 Tools for Highly Effective Multi & Remote Office Communication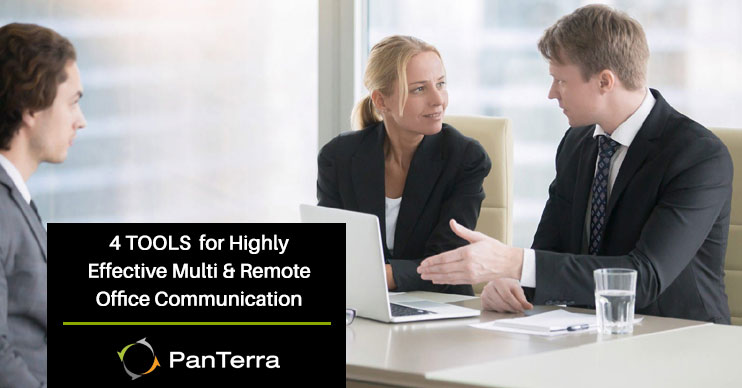 As always, to remain competitive and productive, businesses learn to adapt and evolve with the constantly changing times. One of the areas where change is now necessary is in communication. Today's business communication tools are enabling small, medium, and large companies to communicate significantly better than before.
Here are 4 business communication tools that you can get started with today.
Group/Private Chat & Messaging Tools
Project teams and groups need collaboration tools to help them be more effective in the workplace. Without a platform or designated spaces where they can collaborate, it becomes difficult to keep tabs on their progress. Being able to bring your teams together also helps them be more effective and provides an easy
way of reporting progress. Collaborative spaces with private, group messaging, and chat capabilities provide the perfect business communication tools to keep teams working together. Such spaces are important when business communication managers need updates on the progress of projects or when they need to communicate with team members.
Internal Videos and Blogs
When your content looks good, people will want to read it. Great content will be the defining factor as to whether your internal teams will be engaged or not. If you have low engagement, or little to no feedback, the type of content you post may be the problem. When you start to use images and videos across your intranet, you're going to get more traction and engagement from your employees. Infographics are another way to increase engagement. Creating training videos, video messages from top-level managers, behind-the-scenes footage, and then posting them online is likely to increase engagement and retention among
employees. Infographics are especially suited for marketing departments and for demonstrating and explaining processes. They are visually appealing and help communicate instructions quickly and easily.
Issue-Tracking Software
Today's customer wants the ability to connect with you across a variety of channels. The problem is that there are no tools that offer a 360-degree approach to customer support and service. Customer queries often get lost, call volumes go up, and the inability to assign the right employees to handle customer queries leaves many customers frustrated. Issue-tracking software is one of the best internal communication tools. This software enables your customers or employees to submit a case or ticket, get it assigned to the right employee, and have it successfully resolved. Issue-tracking software helps centralize customer support queries, track open issues, track team productivity, prioritize the most important questions, and collect valuable customer feedback that helps improve your products and services.
Discussion Forums
Information sharing in the workplace is as vital as learning new skills. Veteran workers can orient new employees on what's what within an organization, helping them get up to speed quickly and with fewer mistakes along the way. Simultaneously, when you have a space where employees can ask questions and discuss projects, it helps bond everyone within the organization. If employee questions go unanswered or knowledge-sharing is lacking within the workplace, your solution could be to implement company-wide discussion forums. A discussion forum can bring everyone together—management and employees—and allows for an open discussion on any topic. Such a space will help in knowledge dissemination and bring everyone closer together. Discussion forums are also great for archiving organizational knowledge that may not be easily disseminated on blogs, but exists among individual employees. When equipped with these 4 business communication tools, you're better positioned to improve efficiency, engagement, and knowledge-sharing in the workplace. Ready to see how the above-mentioned chat and messaging tools can support your MO communication?
PanTerra brings it all together with unified cloud services, packaged for any business, group, location and individual needs. As businesses change, PanTerra provides a level of comfort that will keep you at the forefront of customer service, sales growth and flexibility. The PanTerra advantage includes giving staff the tools they need to provide top customer service, field people accessibility to increase transactions, and automation tools to increase revenue. With PanTerra, we deliver complete unified communications the way you can use it so you can focus servicing clients in ways they never imagined.