10 Things You Need To Know About SmartBox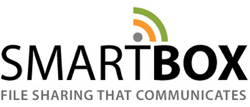 Seems like everyone in tech these days has a "10 things you need to know..." list. Even Microsoft has gotten the "10" bug with the skipping of Windows 9 in favor of "Windows 10." So I thought I'd share my 10 things I think everyone should know about SmartBox our revolutionary enterprise file sync and share solution with built-in real-time communication and collaboration features. Knowing and understanding these features will help your company unlock the full power and potential SmartBox has to offer enterprises as they consider moving one or more critical IT services to the cloud.
SmartBox delivers enterprise-level unlimited file store, sync and share.Consider all the hassles and challenges you face today with managing, upgrading and supporting your on-premises file servers and exchange servers. Do you find yourself constantly running out of space? Dealing with dead or failing hard drives? Re-arranging or installing additional rack space for more storage? ALL of this frustration, obsolescence and cost virtually disappears by moving your content to the cloud with SmartBox! SmartBox provides unlimited secure cloud storage with enhanced sync and share features along with enterprise-level administration, management and security features. SmartBox allows you to eliminate costly and complex VPN and FTP configurations without losing control or security. With SmartBox, you get truly unlimited storage, enhanced sync and share features and the tools and control features enterprises need in today's business world.
First in the Industry: Built-in real-time unified communications.In the business world, sharing content is only HALF the interaction with customers! Once you share content, you need to COMMUNICATE AND COLLABORATE to complete the interaction. Why do all these things in multiple different disparate services or applications? With SmartBox, you don't have to. Unique to SmartBox is its built-in real-time unified communication and collaboration features. These features are not just "slapped on," they are seamlessly integrated into the very core of the store, sync and share solution. This makes the complete interaction with customers, prospects, co-workers and partners more productive, efficient and responsive. Take the case of a sales person sharing product information with a prospect. With SmartBox, the prospect is instantly connected with the salesperson so that they can reach out to the prospect (or vice versa) with a single click. No delays trying to find contact information or searching emails for that all important phone number or email address. Sharing, communicating and collaborating are INSTANTANEOUS with SmartBox!
SmartBox stores all your communications content too!Where do you access your voicemails? Faxes? Call recordings? IM archives? Outlook attachments? For most people it's a mish-mash of separate services with separate interfaces and access methods. Even worse, let's say you need to share a voicemail with a colleague or external person! With SmartBox, all your communications content is stored in the exact same secure cloud as your user content. And it's securely sharable and syncable, just like your user content. If you're a contact center agent that needs to share a call recording with a client, it's as easy as sharing any document!
SmartBox has built-in enhanced security features.Security is built into SmartBox, not an after-thought. Securing your content and communications is critical to ensure business continuity and operations. SmartBox delivers enterprise-grade security features such as multi-factor authentication on all devices and encryption in-transit and at-rest. A multitude of flexible sharing privileges allows administrators and users to select the right security level to share content. The ability to quickly lock out a mobile device or reassign content to another user adds to the robust security features of SmartBox. And, because SmartBox is HIPAA compliant, you know that your confidential information is safe from prying eyes.
SmartBox supports mobility the right way.Virtually everything you can do at your desktop can be done on your SmartBox mobile app. That means setting up custom shares of content, making or receiving office phone calls, faxing a document to a customer or making a video call. You have access to all your content and communications in a single mobile app. Even when SmartBox is running in the background or your smart-device is asleep, you are still able to receive incoming calls, IMs or important notifications. Have multiple mobile or desktop devices? Not a problem with SmartBox. SmartBox synchronizes notifications and presence across multiple devices with ease.
In my next post, I'll continue with the next 5 or so reasons why SmartBox is the right choice when you want a solution that integrates all of your communications, collaborations, and file sharing requirements into one safe and secure cloud-based service.