The 5 W's of Choosing a Call Center Solution
What is a Call Center?
A call center is a centralized department to which phone calls from current and potential customers are directed. Call centers can handle inbound and/or outbound calls, and be located either within a company or outsourced to another company that specializes in handling calls.
When a business, regardless of size, needs to be able to log/track calls (incoming and outgoing), they require a phone system that has that capability. A call center gives businesses the option to record calls for review at a later date. They are used to support customer satisfaction and to promote a business brand. The question is, "Are you running your own call center or do you hire it out to a 3rd party vendor?"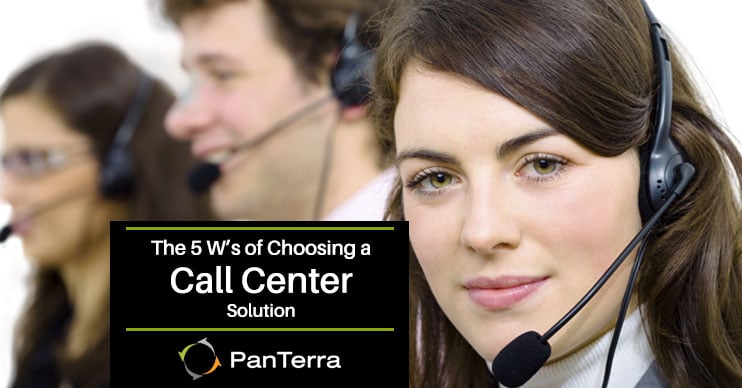 ---
Who Would Benefit from an In-House vs a 3rd Party Call Center?
If your business relies on customer interaction, your business would benefit from an in-house call center. Who knows your business and its customers better than you? When you use a 3rd party vendor, you are giving them free reign to prop up your business or damage its reputation through false promises or unrealistic expectations. Customers want to deal with businesses that care about them. They don't want to do business with people they don't trust.
What's the Difference Between a Call Center and a Contact Center?
In this article from Twilio, Call Center vs. Contact Center: What's the Difference?, they make the case that with the technological advances in cloud computing, there really isn't a huge difference in today's call center platforms. What you should be asking is, "How am I to compete with other businesses in my vertical that are utilizing the technology with success and translate that to my business and reap the same rewards?"
When is the Right Time to Implement a Call Center Strategy?
If you're researching the benefits of a call center solution, then the time is now. What features in a call center solution keep popping to the top of your implementation strategy? Here are a few that you may (or may not) have considered:
Advanced Call Queuing. Unlimited queues can be set up so enterprises can customize a caller's experience. And, with sophisticated agent routing algorithms, like skills-based routing and queue to queue transfers, agent resources are optimized.

PBX Integration. Integrating and interacting with existing PBX and other communications services virtually eliminates frustrating and time-consuming experiences for the customer and the agent.

Supervisory Modes. Advanced features that help companies train and improve agent performance with Silent Listen, which enables a supervisor to listen in on any agent's current phone call for evaluation and feedback, Whisper, where the supervisor can actually whisper into the ear of the agent without the caller hearing anything, and Barge-in, which allows supervisors to break into a call and take over the conversation.

Call Recording. Agents can elect to record inbound or outbound calls from their handset, softphone or mobile phone with a simple key stroke and recorded calls can be seamlessly transferred between handsets, softphone and cell phones mid-call for review at a later time.

Live Monitoring. Both inbound and outbound calls can be monitored and displayed real-time. With live monitoring, you can interact with the live monitor, such as pull a caller out of the queue and connect with them instantly.

Detailed Reporting. The ability to review performance of a call center agent is key for supervisors to understand peak hours of incoming calls, to determine which agents are spending too much (or too little) time with customers, and whether agents are fulfilling their outbound calling quotas.
Where Do I Start?
Beginning your search for the call center solution that fits your needs can be daunting. There are so many choices and getting to know what your business requires may take some time discovering. The best advice anyone should be giving you is, "Kicking the tires on a call center solution may be the best way to discover what you need to compete." How do you 'kick the tires' on a call center solution? Do your research. Put together a questionnaire that narrows down the best solution for your needs. Let's get you started on that questionnaire:
Is the call center solution flexible? Can my employees work from various locations?
Is there a limit to how many agents are in my call center?
Does the call center platform have inbound and outbound capabilities?
Will the call center integrate with my current CRM?
What is the monthly cost to implement the call center?
Can the call center platform guarantee call quality and minimal outages?
What kind of reporting capabilities are integrated with the call center solution?
Is training available?
Why Should I Be Considering a Call Center Solution?
If you want to compete in today's environment, where people have so many choices to spend their dollars, then you need to be able to stand above the competition and offer a better experience. Let's face it, your product/service isn't unique. When you fail to live up to your customer's expectations, those 'loyal' customers will let you know by walking their business next door to your competition. What sets successful businesses apart from one another is customer satisfaction. A call center solution includes features that aren't usually part of a regular phone service. They include:
Skills-based Routing

Call Recording

Computer Technology Integration

Desktop Notifications

CRM Integrations

Supervisory Modes (Silent Listen, Whisper and Barge-in)

Warm Call Transfer

Analytics and Reporting
How Do I Choose the Right Call Center for My Business?
As you start your search, armed with your questionnaire, you will undoubtedly begin to form your call center implementation strategy. You'll contact call center solution providers and they'll walk you through their solution. If they're answering all of your questions to your satisfaction, and their solution seems to be the right fit, it will all come down to cost. But, what is included in that 'cost' is what you should be mindful of. Does it include training? Dedicated support? Are there any hidden fees that don't show up until you've already signed on the dotted line? Ask to see a demonstration of the call center. Ask for references for other businesses using their solution. Ask to see a sample invoice. Ask for a 30-day trial period to 'kick the tires'. What have you got to lose? All they can do is say no. In which case, you simply move on to the next call center solution provider and conduct the same research. Just as you would seek a 2nd opinion in your healthcare, you should research and seek out multiple call center solutions to find the best fit for your business. Your business success depends on it.
PanTerra's cloud-based virtual Streams Call Center delivers world-class inbound and outbound Streams Call Center capability regardless of agent location, and includes features such as Salesforce CTI Integration, call recording, detailed reporting, call queues, lifetime analytics, and so much more. And, because PanTerra's Streams Call Center solution is cloud-based, it doesn't require upfront hardware or software.